Okay, so I'm posting an almost finished project. I'm posting it early so I can join Shanty2Chic's Gorilla Glue party. It just needs another coat of chalkboard paint and to be secured in the frame. I was going to post pictures of the process, but my camera has gone m.i.a. (I'm sure I set it down someplace in the house in my usual sleep deprived state). I am working on a second one, so I will post all the steps then. I used a large picture frame that I repaired using Gorilla Glue and short ?plate shelf? (not sure if that's what it is) which I secured to the frame with Gorilla Glue (I got both of these items for free at my local thrift shop on their Free Friday, where they put out items that they can't sell in the shop). The shelf is to hold chalk and an eraser. I primed both the pieces and spray painted them a glossy black. I then went to a local metal working shop and had a piece of sheet metal cut to fit the frame (you can buy sheet metal and snips at a home improvement store, but I'll be honest, I don't think I could cut the sheet metal myself, it would be like eating tin foil or fingernails on a chalkboard). I then primed the sheet metal and painted it with chalkboard paint (I bought the kind that rolls on, it was more bang for the buck). I am planning to coat the chalkboard again at least once and then secure it in the frame with a piece of foam core board behind it so the metal doesn't bend when it's written on. I made this for my nephew for Christmas for his room. It is pretty heavy, but i think it can be secure to the wall without difficulty. I promise I will post more fun details when I find my camera. (I took these pictures with a combination of my husbands and my daughters cameras, neither of which I am very familiar with, so please excuse the quality of the pictures).
This is kind of a funny angle, but it really is the best picture of it.
Total cost to me for this project was $22: Frame and shelf were free, $5 for Gorilla Glue (which I will get a ton more uses out of), $5 for piece of sheet metal cut to size, $12 chalkboard paint (which I will have many uses for). So in reality it was a fraction of that because I will be able to use the glue and paint on multiple projects.
This project is linked to Shanty2Chic's Gorilla Glue party and Frugalicious Friday on Finding Fabulous.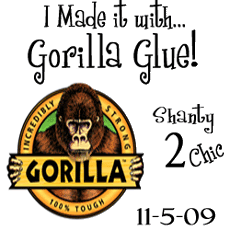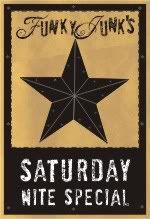 Entered at Trash to Treasure at Reinvented
p.s. sorry about not highlighting all the "f"'s for Feature Friday, it's been a busy week, and I just ran out of time to do everything and wanted to get this post up.